Best Morocco Tour Companies
Best Morocco Tour Companies, we arrange for you to Discover "exclusive and personal". You'll see what the regular bus Group tours don't show and what the tour agents may not know about, taking you beyond the standard tours.
Morocco Travel Specialist and Best Morocco Tour Companies, offer various tours of Morocco from the most recommended tour guides in Morocco. Sightseeing Morocco Tours from Marrakech, Casablanca, Fez & Tangiers selected cruise ship ports. Why search elsewhere when you can find reliable Morocco Tours you desire here. Use our Morocco Tour Search to find a tours departing on your desired time frame or take a look at the Featured Tours from Casablanca, Marrakech Tangiers and our unique Atlas Mountains Hiking Trips… If you can't find what your looking for contact us and we will find it for you. we also arranges private driver guided tours and customized itineraries.
Desert Trips Combines Culture, History, Berber Culture, architecture, history, and storytelling in one powerful experience of Morocco that no other tour company can match.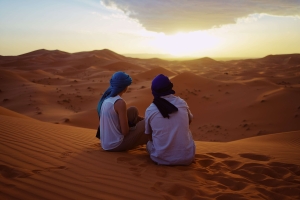 Popular Best Morocco Tour Companies:
BEST TRIPS & DESERT TOURS FROM MARRAKECH
Tours From Marrakech A large selection of Marrakech Tours and multiday Trips you can book with WomenBestTravel, All our Tours are in small and private groups to offer the most authentic and unique experiences from exploring the high Atlas Mountains, their scenic views and magical landscapes, The Sahara Desert And much More ….
Tours From Casablanca
A selection of Tours From Casablanca Morocco To the Sahara desert, the imperial cities, Marrakech, Rabat, Meknes, and Fez. Explore morocco's north and visit the blue town of Chefchaouen
The option of Customized Tours from Casablanca with 3 days trip to Chefchouen, 6 Days trip to the imperial cities, 15 days trip totally Morocco Tour, 10 Days desert, and imperial Morocco cities.
4 Days Desert Tour From Marrakech To Fes
MOROCCO TOUR 2 WEEKS FROM CASABLANCA INCLUDING CHEFCHAOUEN BLUE TOWA, FEZ, DESERT LUXURY CAMP, BERBER VILLAGES, ATLAS MOUNTAINS HIKES AND BEACH TOWN